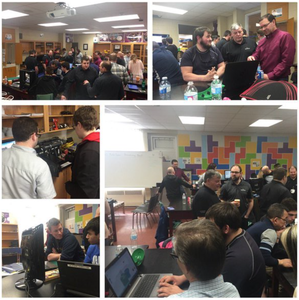 10:30AM - 12:00PM
All too often we are given the chance to view a new technology but we rarely have the chance to interact with it one-on-one with the trainer present to help you. The goal of this session is to allow participants the opportunity to interact with as many different STEM related technologies as possible. Don't be fooled by the term technology, this session will have everything from robotic Sphero's to old school physics models that seem to escape explanation.
Who will be Presenting?
Dr. Grant Williams - Education Professor at St. Thomas University
Lisa Holyoke-Walsh -Science Education Professor at UNB
Karen Matheson - Education Coordinator - Science East
Joey Savoy - Math and Science Subject Coordinator - ASD-N
Judson Waye - Science Lead - ASD-N
Adam Hayward - Math Lead - ASD-N
Bryan Ouelette - STEM Lead - ASD-E
Peter MacDonald - Physics Teacher - JMH
Ashley Hallihan - Make 120 Teacher - MVHS
Mike McCallum - Grade 3 Teacher - Ian Baillie Primary
What to expect in this session
Each of the presenter will overview how their "technology" and how it related to a STEM curriculum. Once each item as been presented, participants will have the opportunity to use the "technology" and ask question. Curriculum related resources will be available for most applications.