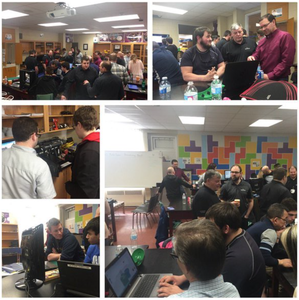 10:30AM - 12:00PM
The world of science and math education has greatly changed since most of us were in grade school. What our children are bringing home (or don't bring home) for school work can be different than expectations of parents. This open forum is designed to allow parents to ask questions to educational leaders in math and science education.
Who will be there to answer your questions?
Dr. Grant Williams - Education Professor at St. Thomas University
Lisa Holyoke-Walsh -Science Education Professor at UNB
Karen Matheson - Education Coordinator - Science East
Joey Savoy - Math and Science Subject Coordinator - ASD-N
Judson Waye - Science Lead - ASD-N
Adam Hayward - Math Lead - ASD-N
What to expect in this session
Each of the panel members will overview how their job roll impacts the lives of students. Although there is always cross-over, each person brings a distinctly different perspective on how hands-on inquiry based STEM education benefits students. From there, parents will have the chance to shape the conversation and ask questions that affect their child's education.